About
Eddsworld is an animated series created by Edd Gould (1988-2012) that follows the misadventures of three buddies: Edd, Matt, and Tom. You can find our videos on YouTube and Newgrounds and our comic strips right here! We also have a Twitter, Facebook, and Instagram, where we post Instagram Originals multiple times a week as well as featuring amazing fanart. If you're a parent or guardian of a young fan, please read out Info for Parents.
The Team
Members of the Bored
The History of Eddsworld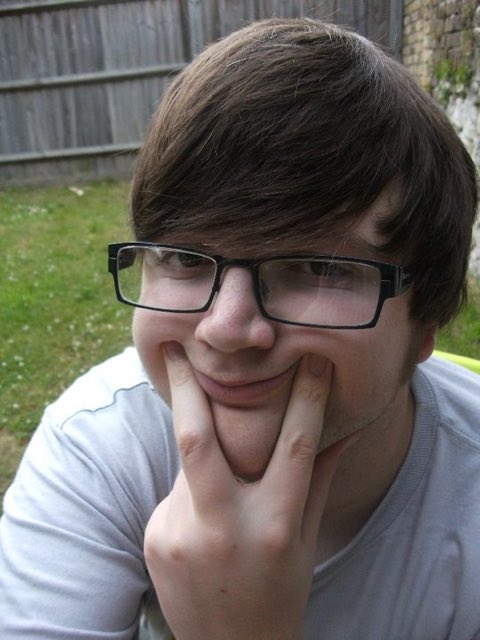 Edd's earliest animations were shared on Newgrounds in 2003, where he slowly found an audience and community. The series later moved to YouTube as well. Edd was massively inspired by the British sitcoms he grew up watching, particularly Red Dwarf, as well as American adult animated series like Matt Groening's The Simpsons and Futurama. This shines through in his early creations, full of homages and easter eggs referencing his favourite TV shows. Eddsworld featured a mixture of short sketches, musical animations, and longer 'Eddisodes'. The character of Matt was voiced by Edd's childhood best friend Matt Hargreaves, and Tom by close friend and early collaborator Tom Ridgewell. Early videos also featured a fourth character, Tord, voiced by Tord Larsson, who later left the show.
In 2012, after battling leukaemia for most of his life, Edd passed away. Both he and the Gould family wanted to keep Eddsworld going, so later that year Tom took over as showrunner. Eddsworld Legacy was launched with a very successful crowdfunding campaign, funding several new shorts and Eddisodes. These videos were animated by several guest animators including Paul ter Voorde, Kati Knitt, Jesse Zhang, Anthony Price (aka Kreid), Sandra Rivas, and Brandon Turner. The proceeds from Legacy episodes between 2012 and 2016 were donated to the UK cancer charity CLICSargent in four instalments, totalling just over £80,000 (about $110,000).
After a hiatus which lasted a couple of years, Matt took over as showrunner and creative lead on Eddsworld. With the blessing of Sue Gould (Edd's mum) he began building a new team to continue the series. The team continues to grow and change and is currently working on more new videos, comics, and original content.
Eddsworld has also kept its close ties to charities, particularly those focusing on cancer, children's health, and the creative arts. Edd's Place, a holiday home on the British coast, is funded by proceeds from the show and operated by the Gould family. In partnership with Young Lives vs. Cancer, families with young people suffering from cancer can stay in the home free of charge. The Eddsworld Team advocates for and supports creators from the LGBTQ+ community, and support the Pride movement and Black Lives Matter. On Edd's Birthday (October 28th) every year the team awards equipment and art supplies to young creators. In 2021 they raised £35,000 with their Red October event, splitting it evenly between Young Lives vs. Cancer and Medicinema. They also regularly support fans in fundraising projects, from live streams to sponsored head-shavings! As the business of Eddsworld grows so do its many charitable initiatives.
[Sidebar Ad]
[Sidebar Ad]